Redefining the Contractor Experience.
Thrasher Group is a family of companies in the midwest committed to doing things differently.
Request a free estimate
Does your basement, concrete, or garage need some help? Give us a shout! We're the basement, concrete, and garage experts and we have the answers.
Get a Job
Want a career that encourages you to grow and achieve your full potential? Thrasher Group is hiring today!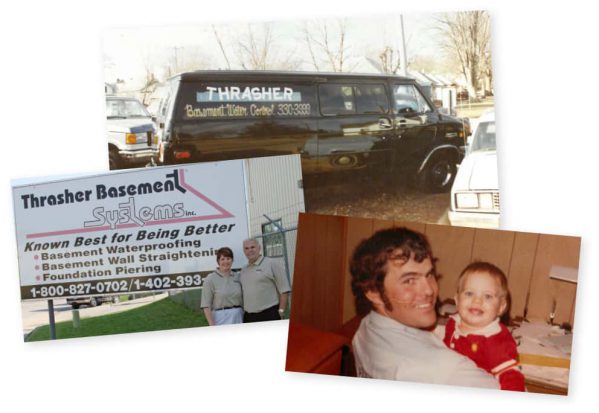 Our Story
From small beginnings operating as a duo out of their farmhouse in 1975, Greg and Nancy Thrasher took a "whatever it takes" approach to keeping customers happy. Today – led by their son Dan – Thrasher Group has 8 locations over 5 states. We stay true to our roots by using quality products, installing them properly and standing behind our work.
What we do
Our success is a result of expanding and evolving what we offer beyond basement waterproofing and foundation repair to include things like concrete repair, and egress window installation – for a more complete set of solutions:
Foundation Repair

Basement Waterproofing

Concrete Leveling and Repair

Crawl Space Encapsulation

Egress Windows

Geotechnical Solutions

Garage Flooring and Storage
Many locations –
one family.
Life is too short to be stuck. At Thrasher Group, we believe
fulfilling work leads to fulfilling lives.
400+ Employees across 8 locations
Voted Best Place to Work 5 years in a row
Family owned and operated since 1975
"The call backs and e-mails to be sure that the customer was well informed was impressive. The company is obviously very service oriented and the employees are proud to be part of the Thrasher family."
Steve W
Lincoln, NE
"From the first phone call to set up the appointment for an estimate, through the information materials that arrived prior to that meeting, this company has been customer oriented. All services were delivered on time, as described, on budget, by a pleasant and competent crew. AND the job site was spotless when they left!"
Peggy
Omaha, NE
"The crew we had made us feel that they were there to serve us and not just to get the job finished and leave. They showed concern that we were satisfied in all aspects all along the way and our crew lead not only made us feel we got our money's worth – but also made a new friend along the way."
Don A
Ravenna, NE
What makes working at Thrasher Group Different?
Download a free eBook of Thrasher Group's Manifesto.